FlavorFuel® Pecan Nutshells - Bulk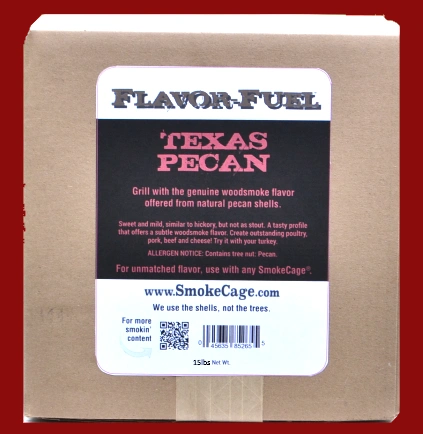 A convenient bulk pack size of our very popular, all natural pecan shells for the backyard and competition grilling pro.  Add a touch of wonderful Texas grown pecan nutshell woodsmoke to your favorite grilling targets: hamburgers, beefsteak, pork chops, chicken, turkey and veggies too!  Package contains enough shells to cook multiple meals depending upon your cooking style and length of cook.

Texas pecans are harvested and shelled.  We then process and package the shells into the product you may use to flavor food with true woodsmoke using the SmokeCage® assemblies.  Unlike questionably sourced compressed wood pellets, you can see exactly what you're using to cook the food you eat.  Smart.  Sustainable.  Available.  Order yours today right here, right now.  Your friends will rave! Pair with any SmokeCage®.
Flavor-Fuel® is a U.S. Registered Trademark # 5,093,887
FlavorFuel® is a U.S. Registered Trademark # 5,444,490