FlavorFuel® Walnut Nutshells - Bulk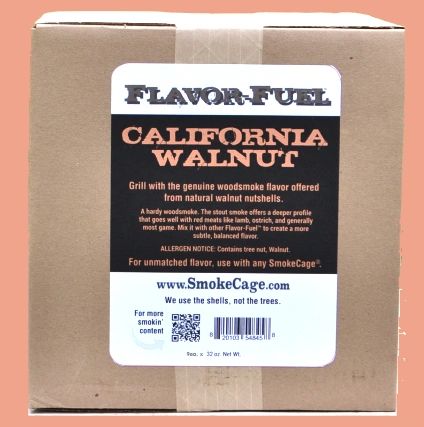 CALIFORNIA WALNUT NUTSHELL

Enjoy grilling with the

genuine woodsmoke flavor

offered from natural walnut nutshells.
Creates a hardy woodsmoke. The stout smoke offers a deeper flavor profile that goes well with red meats like beefsteak, lamb, ostrich, and generally most game (elk, deer, bison).  

Package contains enough shells to cook multiple meals depending upon your cooking style and length of cook.
ALLERGEN NOTICE: Contains tree nut: Walnut.
For unmatched flavor, use with any SmokeCage®.
We use the

sustainable

shells, not the trees!
Safe Arbor Fuels
Flavor-Fuel® is a U.S. Registered Trademark # 5,093,887
FlavorFuel® is a U.S. Registered Trademark # 5,444,490